Caring for Yours like they're Ours
Elmbrook Home
Person-Centered Services
Because We Care
Elmbrook Home is a skilled nursing, long-term care, and rehabilitation facility located in the beautiful community of Ardmore, Oklahoma. We provide rehabilitation services and 24-hour skilled care in a comfortable and friendly environment.
Returning our residents to their highest level of function is our main focus. We provide physical, occupational, and speech therapy tailored to each resident's unique needs. Treatment is highly personalized and begins on the day of admission with a rehabilitation screening.
Thank you to our community for voting us Best of the Best Award Winner for 2023, Assisted Living.
The Official Community Choice Awards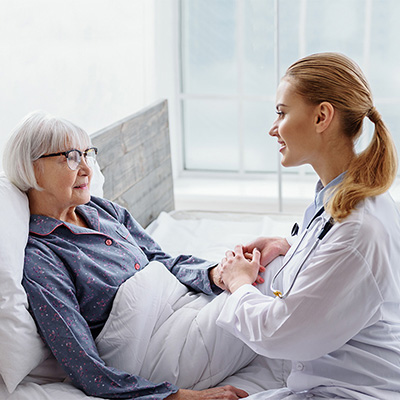 Dining Options
With You in Mind!
Daily Seasonal Breakfast
Fresh and nutritious options to start your day.
Coffee, Tea & Assorted Beverages
Offered throughout the day. Share a cup of coffee with a friend or enjoy a good book on the patio with a cup of tea.
Restaurant-Style Dining
Appetizing, nutritious choices served every evening and approved by our registered dietitian.
Interested in enriching the lives of those we serve?
Come Join our Team
You Have Questions?
We Have Answers
Elmbrook Home offers an array of services and amenities to keep your health in balance and your social life blossoming. From daily exercise programs to quiet common areas for lounging, we want you to feel right at home!
Visiting hours
We recommend visiting from 8 am until 8 pm, after that time we lock our doors and most residents are asleep. But you are welcome to visit 24 hours a day. Please call in advance for after-hours visits to insure access.
What COVID precautions do I need to take when visiting my loved one?
Please refer to the COVID Updates section.
What articles of clothing should I bring?
We recommend approximately five changes of clothing and a pair of comfortable rubber-soled shoes. All articles should be washed, clearly labeled with the resident's name in permanent ink, and entered into the patient's personal inventory log in the medical chart. Other personal items should be marked or engraved for identification. We advise that patients do not keep valuable jewelry or large amounts of cash in the facility.
How often will a physician or health professional visit?
Physicians generally see patients upon admission and once every 30 days thereafter. However, our nursing professionals are in constant contact with all of the physicians that visit the facility. Some insurance companies require that physicians visit more often. Check with our nursing staff for further information.
How do I find out about activities provided for the resident?
We strive to create social programs and individualized activities to match the capabilities and needs of each patient. This also has a powerful impact on the healing process of those patients involved in some type of rehabilitation. Specific activities include active resident councils, musical performances, current events update- reading the newspaper, singing exercises, fitness activities, stretching exercises, religious meetings, outside entertainment, games, trivia, history, and volunteer involvement. We also strongly encourage families to participate with the residents in various activities.
A monthly calendar is posted to keep residents informed of upcoming events such as birthday parties, movies, musical programs, outings, candlelight dinners, ice cream socials, and other special events. We always welcome friends and families to visit and attend our special events.
What do I do if I have personnel concerns?
Our primary concern is that you feel comfortable and that your needs are being met. You should feel secure and at ease with our staff, particularly those providing your direct care. If you have any concerns or praise for our staff, please feel free to contact our social services department. They will be able to address any apprehensions you may have regarding any particular staff members.
Is there any private space available to use?
You may reserve the activities lounge for any special events (birthday, holidays, meals) with notice.
Can my loved one receive mail?
Definitely. Mail is delivered to residents personally on a daily basis except for weekends and holidays.
Elmbrook Home 
Attn: ________________ Room No. _____
1811 9th Avenue NW
Ardmore, OK 73401
Or consider using our Send a Greeting feature on the website. Just type the recipient's name and type your message. When it arrives in our email box we will print it and hand-deliver it to your loved one.
Contact Us Today!
Call us to set a time when you can stop by to tour our facility, enjoy a meal and meet our wonderful staff.
Your healthcare choice in Ardmore, OK
Elmbrook Home
Address
1811 9th Avenue NW
Ardmore, OK 73401
Phone/Fax
(P) 580-223-3303
(F) 580-226-7661